Brochure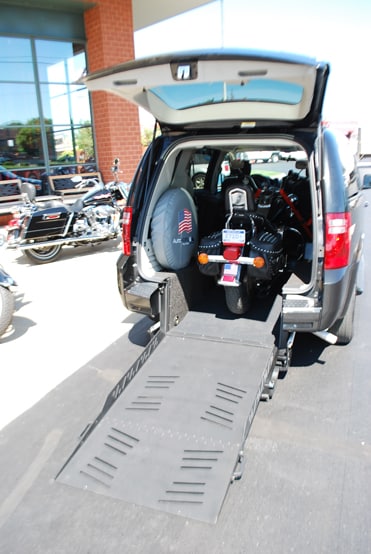 We pride ourselves on breaking paradigms and out-of-the box thinking, and sometimes that approach produces something great and unexpected. Enter the Bike Hauler. Our conversion is built with one phrase in mind: "heavy duty." Inevitably, in the search for a clever marketing idea for our conversion, we decided to put our President Chuck Fortinberry's Motorcycle into one of the vans to demonstrate ramp strength and suspension capacity. The rest, as they say, is history.

Our Bike Hauler conversion is based on our long-cut rear entry wheelchair van conversion, but with a motorcycle specific interior such as a wheel chock and D-ring tie-downs. The Bike Hauler will fit almost all motorcycles; most without any modification to the windshield or storage compartments. Simply put, this thing is awesome!

We have always said that our vans are "overbuilt" to withstand the rigors of everyday driving for both commercial and private use customers. The Bike Hauler is definitely a testament to this fact. Using the exact same suspension configuration as our wheelchair vans, the Bike Hauler still maintains over six and a half inches of ground clearance with a half-ton motorcycle loaded inside!

Another benefit of this vehicle, it is tow-able behind your motor home! AutoAbility can install a tow-bar on the front of the Bike Hauler, allowing it to be towed with all four wheels on the ground. This gives you the benefit of bringing along an up to six passenger van along with you motorcycle!